STABLE TESTING STATION FOR POWER TRANSFORMERS IS-01-15
We have the testing station that is designed on the basis of our years of experience, research and development in this field.

Types and methods of measurement meet all the prescribed requirements for the issuance of reports on the quality of the power transformer.

Subjects for testing may be power transformers from 50kVA to 1600kVA, voltage level 20/10 / 0.4kV.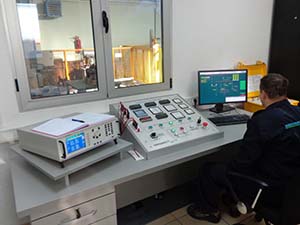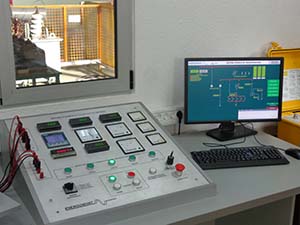 Key elements of the test stations are:
Three-phase regulated transformer with regulated power of 100kVA, with the possibility to regulate the output voltage of 0V – 450V, In = 150A. There is a possibility of voltage regulation per phase
The stabilization of the output voltage is solved with the PLC regulation
Dedicated, designed and manufactured for measuring of the oil-cooled transformer, transmission ratio 1: 3, power 100kVA
Source test voltage of 200 Hz with a range of regulation from 0V – 800V is provided with a rotary generator
Source external voltage single-phase high-voltage transformer with oil supply 00:23 / 35 / 70kV, rated power of 20kVA
For special measurements in reflected warm-use, we use rotary control transformer and forced cooling voltage range of 10V – 800V, I = 200A, and dry measuring of transformer with transmission ratio 1: 2, I = 200A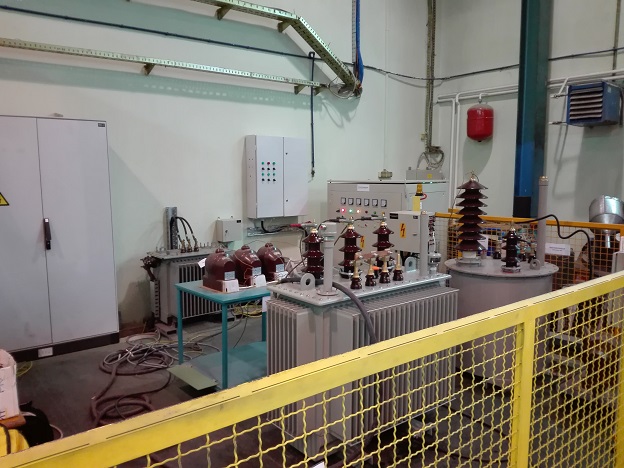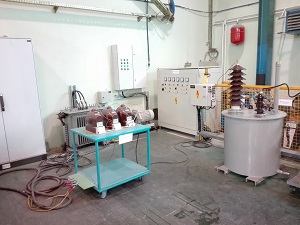 The process of measurement and acquisition of test results obtained, with computer support (SCADA).

The test station runs Siemens PLC with Siemens WinCC SCADA system. On SCADA we display processing of measurements with networked devices PAC4200 analyzers and network analyzers LMG500. The computer has the base measurement reports.

The workflow of the testing station is operated with PLC device with the software of our own development.
Tests consist of standard and special measurements using the latest high-precision instruments.

Standard measurements:
Losses measurement when idling Pₒ
Short-circuit losses measurement Pk
It should be noted that these two measurements are taken with special precision wattmeters.

ZES ZIMMER – Precision Multiphase Power Meter LMG500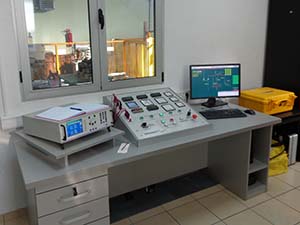 In addition to numerous benefits for the measurement of this type, the said instrument has the option of measuring at very low cos